You might catch yourself wondering, "why do I need a website in a small town like Keystone Heights, FL?" I'm going to try to help you answer that question today. There are a few things to consider when your business operates in a small town.
Word of Mouth Works – Keystone Heights, FL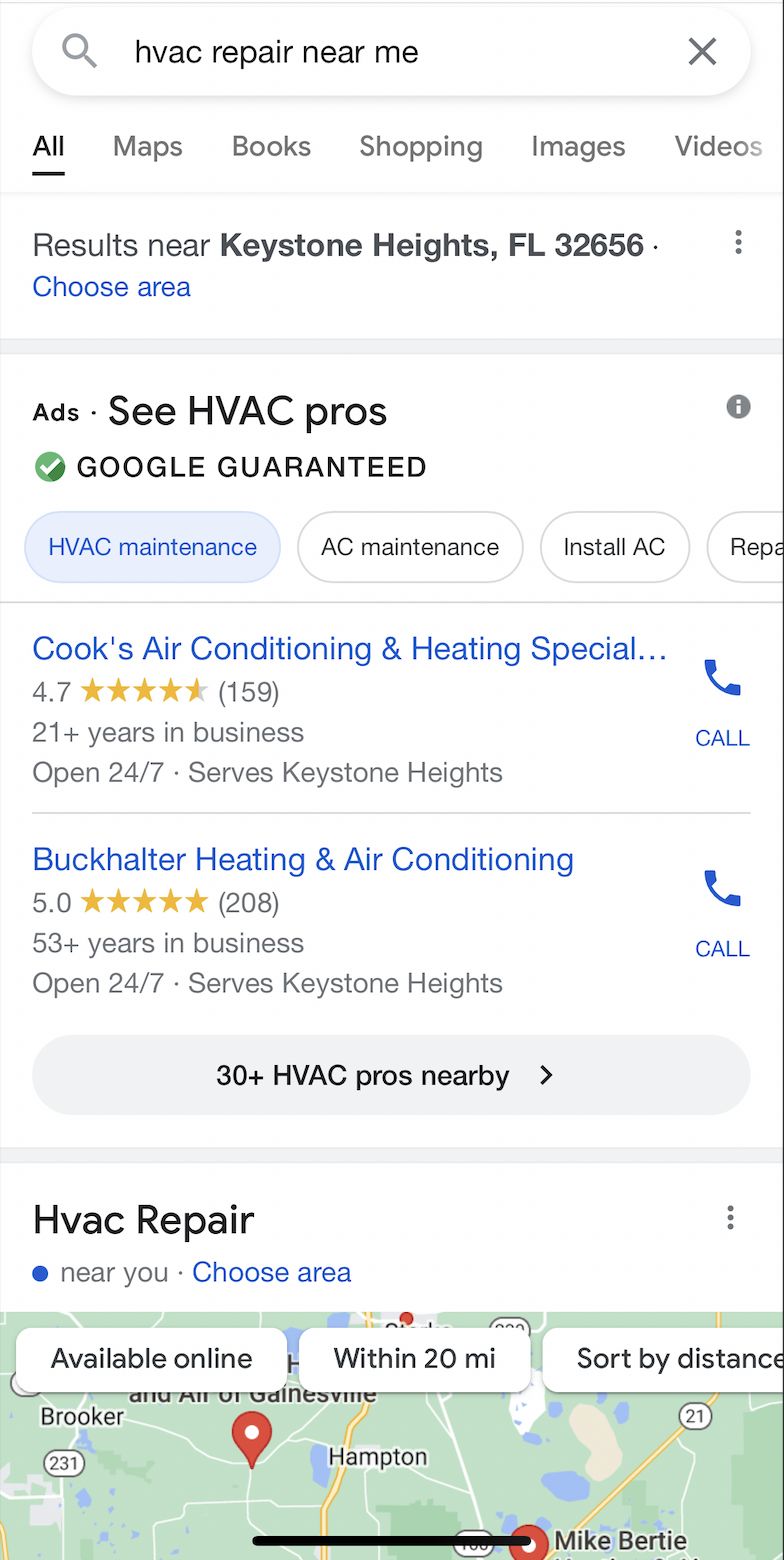 Many business owners in our town rely heavily on Word of Mouth marketing. It's a very effective component of any marketing strategy, but is it enough to help you keep up with how things are going? With the population expansion of Jacksonville and Middleburg, we keep seeing new people moving into our quiet little town. These new people don't know what businesses are in the area and don't have a social network to figure it out yet. Unless they've discovered Keystone Heights Word Of Mouth on Facebook, they have no way of finding out. That's when they resort to using Google Search to find local businesses. You and I both know that Mike Bertie is the go-to HVAC business in our community, but new people search the internet for "HVAC repair near me" will first be presented with Ads for other businesses, as shown below. It's not until you scroll down that you see Mike Bertie's listing on Google appear.
This is a great example where word of mouth marketing doesn't deliver for a local business. New customer acquisition is highly dependent on digital marketing these days.
Hedge Against Future Competition through Digital Marketing
Another consideration is future competition in Keystone Heights. With the Black Creek Pipeline project in the works, it's projected that the lakes in the area will begin to fill up again. If this happens, our little community is going to start growing again. As the community grows and gentrifies, there will be a greater need for all types of local businesses. We'll need more plumbers, electricians, HVAC technicians, carpenters, handymen, roofers, and remodelers. You name it, we'll need it!!
Growing your digital presence takes a long time, so it's always best to start now. Using SEO is one of the most cost-effective means of marketing your business. With a good marketing company, your cost per lead will continue to decrease over time. Unlike paid advertising, you earn new customers through SEO without having to pay for each lead that comes in. So, the more leads you get, the cheaper the cost per lead is for your business! The goal of SEO is to dive as many leads to you as possible using your monthly budget.
Right now, word of mouth might be working great, but being complacent will set you up to get your lunch eaten when competition comes in and earn your client base through leveraging a great online presence.
Use Your Website To Keep Your Customers Informed
Even if you aren't sure you need to invest in your marketing through SEO right now, a good website can give you a place to keep your customers informed. Yes, you might have a Facebook page where you can post to your customers, but Facebook pages don't tend to come up in Google searches, which is where the majority of all online searches are performed. Relying on your Facebook page to keep your clients informed is not an effective strategy, especially considering how Facebook gets to choose which of your posts are shown and which of them are not. When you have your own website, you can decide exactly what your customers see and in what order you want them to see it.
With your website, you can let your customers know if you'll be out of town and closed for a week or two. You could post all of the services you provide so you don't have to answer the same questions every day. You can use the website to collect basic customer information, allow them to ask you questions, and you can even sell things on your website if you want!
Get Started On Your Website Today with Keystone Heights Marketing!
Our local client base is still relatively small as of August 2022, but we will certainly continue to serve the community and hope to earn the opportunity to work with more of the local business owners. We want to help represent your business online so that customers can find you and verify that you're a reputable and legitimate company that stands out from all the pop-up posers doing low-quality work in our community.
We're looking forward to discussing your website and other digital marketing needs! You can contact us here: Contact Us